The 80's
We began our racing career in 1983 with the Jim Mcelreath indy car team. His Penske PC-7 copy appears below. Through the 80's we worked in Indy car racing, IMSA GTP and GTO, SCCA Can-Am, Trans-Am, Super Vee and Formula Atlantic. In this decade we worked with drivers Jim Mcelreath, Peter Kuhn, John Paul Jr,Bill Adam, Whitney Ganz, Jochen Mass, John Morton, Mark Smith,Al Unser Jr,Paul Newman, Jim Fitzgerald, Tom Cruise and Walter Payton.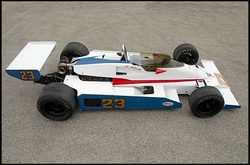 Jim Mcelreath copy Penske PC-7 indy car powered by a Cosworth Ford DFX engine.
---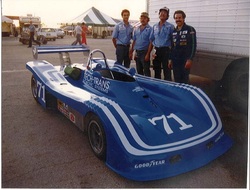 March 802 powered by a Hart 420R. 1984 SCCA Can-Am season. Byron Walker driver
---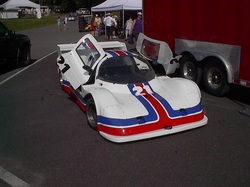 Tiga 285 powered by Mazda 13B. Drivers were Ron Nelson and Howard Siegel of Western Empire S&L

---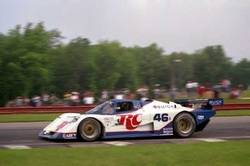 Conte Racing March 85G Buick. Drivers included John Paul Jr, Bill Adam, Whitney Ganz, and Ken Madren

---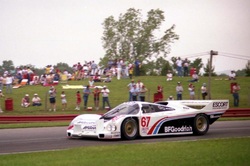 BFG Porsche 962. Drivers included owner Jim Busby, John Morton, Darin Brassfield, Jochen Mass, Jan Lammers and Derek Warwick

---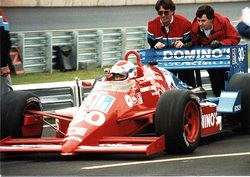 Domino's Pizza Team Shierson March 87C Cosworth DFX. Driver Al Unser Jr.

---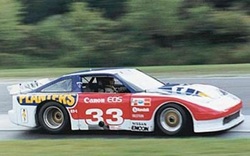 These 300ZX's were constructed in house at Newman Sharp Racing. Drivers included Paul Newman,Jim Fitzgerald, Tom Cruise and Scott Sharp. Sharp won SCCA GT-1 championship in 87 & 88

---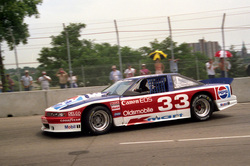 Newman-Sharp switched to Oldsmobile for 1989. One car was built in-house, the other by Peerless Racing. Drivers were Paul Newman, Scott Sharp and Walter Payton

---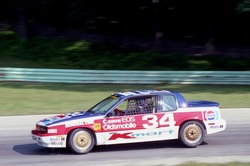 At Newman Sharp we also campaigned this Oldsmobile Cutlass Ciera in IMSA's Luk Clutch Challenge. Driver was NFL Hall of Fame member Walter Payton.
---
The 90's
The 90's saw us returning to open wheel racing in CART's Indy Lights series and later SCCA Formula Atlantic. After a stint at Pratt & Miller. We ran the drive train dept for Brix Oldsmobile's championship winning IMSA GTS program. After a return to SCCA Trans Am in 1996, it was back to Indy car racing for rest of the decade. The drivers of that decade included Justin Bell, Eric Bachelart, Stephan Proulx, Darin Brassfield, Irv Hoerr, Scott Sharp, Robbie Buhl and Richie Hearn.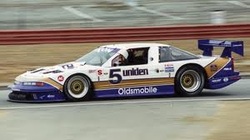 Brix Racing's IMSA GTS program began in early 1994, winning several events in mid-season. Armed with Oldsmobile's new Aurora engine for 1995, a championship season would be the result. Regular drivers were Irv Hoerr and Darin Brassfield. Guest appearances were made Price Cobb, Tommy Riggins, Calvin Fish and R.K. Smith.

---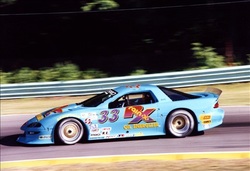 1996 saw a return to SCCA Trans Am with Pickett Racing. This would be the final year of Chevy's factory supported Camaro program. Drivers were Greg Pickett, Scott Sharp and RJ Valentine. The Sharp car was produced by Pratt & Miller. The other 2 by Riley & Scott.

---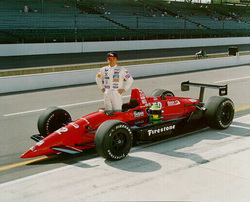 1996 marked the beginning of the Indy Racing League. It also marked our return to indy car racing for the rest of the decade. Working for Beck Motorsports we put 2 Lola T9400's in the field. Engines were Cosworth Ford XB. Drivers Hideshi Matsuda and Robbie Buhl finished 8th and 9th.

---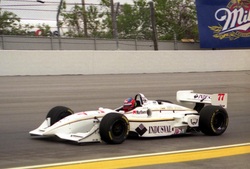 1996 marked the retirement of Chaparral's Jim Hall. The team ownership then went to team manager Gerald Davis for 1997. Driver was Brazilian rookie Gaulter Salles. Car was Reynard 97I powered by a Cosworth Ford XD

---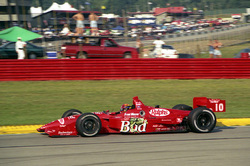 We arrived at Della Penna Motorsports for 1998. Utilizing the Swift 009 powered with the Cosworth XD. Driver Richie Hearn achieved numerous top 10 finishes, with the high point being the Michigan 500. At Motegi a second car was run for Hideshi Matsuda.

---
1999 was a difficult year at Della Penna. Starting the year with the troublesome Swift 010 powered by the Phase 5 Toyota engine. By late May, the decision was made to switch to the Reynard 99I. Later the Toyota Phase 6 arrived. It was a struggle from beginning to end.

---
The 2000's
2000 brought a new experience ALMS with Johansson-Matthews, the Reynard 2KQ and the opportunity to race at the 24hrs. of Lemans. After 2000, a return to indy car racing for most of the decade. Beginning in 2008, we traveled all around the sport doing contract work. This saw us trying vintage racing in HSR and also competing in IRL, Firestone Indy Lights, Formula Atlantic, Grand Am Daytona Prototype, GT and even in a foray into NASA club racing. Among the drivers of this period included Stefan Johansson, Guy Smith, Max Wilson, Alex Barron, PJ Jones, Stephan Gregoire, Matt Plumb, Al Unser III, Felipe Giaffone, and Mario Moraes.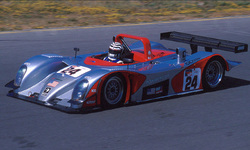 Johansson-Matthews was a new team with a new car. The team originally born from Johansson Racing's CART Indy Lights series. The Reynard 2KQ powered by a Judd V-10 made it's debut at the Daytona 24hr that year. The 2KQ had teething problems all year long. At the end, this car was completely different from what it originally looked like. Drivers were Stefan Johannson, Guy Smith, Jim Matthews and Mark Simo.

---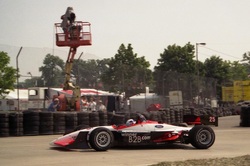 2001 was another new start up team. Arciero-Blair Racing. We started with year old Lola's and Ilmor engines. By June the Ilmor was replaced with the Cosworth XF. Young team, limited experience staff made for a long year. Driver Max Wilson met the wall on numerous occasions. Ultimately replaced by Alex Barron for the final 2 events.

---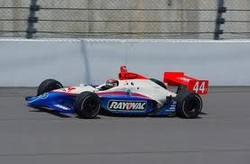 With the departure of Arciero at the end of 2001, owner Larry Blair switched to IRL. Purchasing new Dallara's and Chevy engines, driver Alex Barron would turn out to be a contender. At Indy, Alex was in the fight to win. During the season we scored a win at Nashville and wound up 4th in the championship. This car can still be seen at vintage races in the USA.

---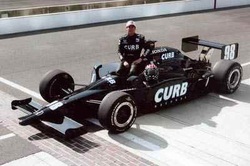 From 2003-2007 we managed the Beck Motorsports Indy 500 entries. Being a small team, chief mechanic and other roles were performed. During those years, both Dallara and GForce cars were used. Honda and Chevy engines as well. Drivers included Shinji Nakano, PJ Jones, Stephan Gregiore, Arie Luyendyk Jr. and Alex Barron.

---
2008 And Beyond

Since 2008 we have been contracting to racing team covering everything from IRL to HSR vintage events and brief foray into NASA club racing. Some of our clients include Zak Brown's vintage collection at United Autosport, Dale Coyne Racing, TMR, Playa Del, Gainsco, Autohaus, Genoa Racing and others.